Pre Purchase Building Inspection in Pakenham
Pakenham Building Inspections are a necessary part of any home purchase.
This photo was taken during a recent building inspection in Pakenham. The tv antenna support post is attached to the internal roof beams, and is not sealed correctly around the roof tiles. During periods of rainfall water had been leaking through the roof and running do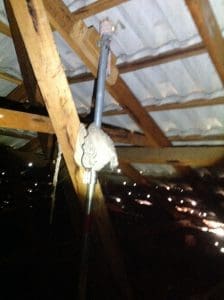 wn the support post into the ceiling. The owners in an attempt to conceal the problem, had wrapped an an old rag around the post to stop the water dripping onto the plaster sheets. In this instance there was no evidence of the problem visible when viewed from the kitchen. During the drier months this could go undetected for quite some time.
Defects like these can have a serious effect not to mention is also a serious safety hazard and are not readily visible during an open for inspection. A period of heavy rainfall will cause serious damage to the plaster sheets and cause sections of the ceiling to collapse.
Need to organise a pre purchase property inspection?
We offer the most comprehensive reports at the most competitive price conducted by a Qualified Engineer.
For a complete pre purchase building and pest inspection contact us at Casey Building Inspections it may just be the best call you ever make.