This photo was taken during a recent Building Inspection in Drouin. You can clearly see there has been an attempt to repair some damaged flashing and the roof has significant signs of age. Cracked and broken tiles will also allow water entry into the roof void.
This can cause further damage to the roof batons, insulation, wiring and fixtures.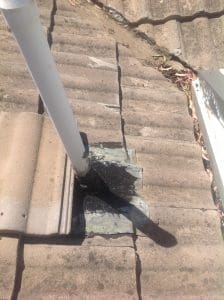 In this instance the inspector has recommended a full restoration of the roof which includes replacement of any cracked and broken tiles  cleaning to remove any buildup of moulds and moss, re sealing and repointing of the roof.
This will also improve the overall appearance of the facade and value to your home.
Need to organise a pre purchase property inspection? contact us at Casey Building Inspections it may just be the best call you ever make.
We offer the most comprehensive reports at the most competitive price conducted by a Qualified Engineer