Property Inspections in Pearcedale
Nearly everyone dreams about owning their own property someday, so it's exciting when you finally have the means to do so. However, this enthusiasm can die very quickly if you move in and discover things you hadn't noticed earlier, such as cracks in the ceiling, broken drainage systems, or termites in the woodwork. At Casey Building Inspections, our property inspections in Pearcedale cover every accessible area both indoors and outdoors. We can identify problems, recommend solutions, and put you in a better position that will save you time and money in the long run.
Unmatched Expertise and Experience
At Casey Building Inspections, our team of unbiased experts boast a level of knowledge and experience that's unmatched by our competitors. We are trained to conduct the highest quality pre-listing and pre-purchase inspections, pest inspections, handover and dilapidation reports, and much more. By trusting us, you can rest assured that you'll receive on-site, same day reports that contain relevant and unbiased information. Our property inspections in Pearcedale also meet all current Australian Standards and are guaranteed to meet your expectations.
If you're interested in arranging an accurate and affordable property inspection, Casey Building Inspections is a number one choice. Call 0488 339 686 or contact us online to learn more.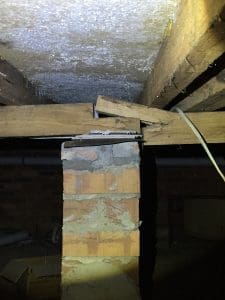 The bearers in this two storey house were not sufficiently supported and the one in the photo has failed as a result
this is a major structural defect that could be costly to repair and cause major damage to the building
there is also a large amount of packing which also indicates subsidence in the footings
Good thing he got us to check.