These photos were taken during a recent building and pest inspection in Somerville, there is extensive termite damage to a number of areas which remai
ned hidden behind the paintwork. Termites will only eat out the interior of timbers and leave a thin shell of material on the outside. This is to ensure they stay hidden from predators and to also provide a more suitable environment. In this case the termites had entered from under the house and proceeded to eat away the skirting boards and wall framing eventually making their way into the roof cavity and devouring a number of Rafters. The extent of damage here is major with a number of walls and structural members effected. This will be a costly repair as the termite damage was present in every room of the house. If you are purchasing a home in Somerville a building and pest inspection carried out by Casey Building Inspections is a necessary part of any home purchase.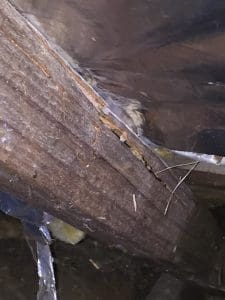 Need to organise a pre purchase property inspection?
We offer the most comprehensive reports at the most competitive price conducted by a Qualified Engineer.
For a complete pre purchase building and pest inspection contact us at Casey Building Inspections it may just be the best call you ever make.